About Us
Leigh Tandoori is a Indian takeaway in Leigh. Why don't you try our Mix Starter or Samba?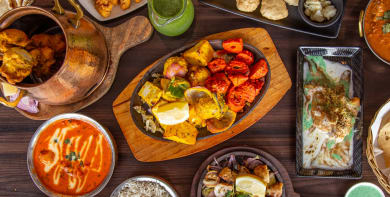 Reviews
34 reviews
Alexandra
"Really tasty, delivered hot. Thoroughly enjoyed it"
20/06/2021
Graham
"Simply the best!!! Consistently great food week in week out."
19/06/2021
Shannon
"Always order from here when we can. They are always polite drivers and if you ring up they are always more than happy to help. The food is great and good value too. Thank you!"
15/06/2021
Sophie
"Delicious! Thank you so much! 😋👌"
07/06/2021
Menu
King Prawn Tandoori Starter
£4.00
Garlic Chicken Tikka Chat
£3.00
Half Tandoori Chicken
Medium
£8.00
Tikka Main Chicken
Medium
£7.00
Tandoori Mixed Grill
Medium
£9.00
Chicken Tikka Shashlik
Medium
£9.00
Lamb Tikka Shashlik
Medium
£9.00
King Prawn Tandoori
Medium
£9.00
Chicken Tikka Shahi
Mix combination of chicken tikka, mince lamb & omlelette on top medium to hot chef secret recopy
Hot
£7.00
Tikka Makhani Chicken
Preparation of marinated diced chicken tikka or lamb tikka cooked with creamed yoghurt, almond, pure butter to give a mild spiced taste
Very Mild
£7.00
Tikka Makhani Lamb
Preparation of marinated diced chicken tikka or lamb tikka cooked with creamed yoghurt, almond, pure butter to give a mild spiced taste
Very Mild
£7.00
Tikka Pasanda Chicken
Marinated diced chicken tikka or lamb tikka cooked in fresh cream, peanut, yoghurt, selected herbs & spices with red wine
Medium
£7.00
Tikka Pasanda Lamb
Marinated diced chicken tikka or lamb tikka cooked in fresh cream, peanut, yoghurt, selected herbs & spices with red wine
Medium
£7.00
Garlic Tikka Chicken
Spring lamb or chicken cooked with fresh chopped garlic
Medium
£7.00
Garlic Tikka Lamb
Spring lamb or chicken cooked with fresh chopped garlic
Medium
£7.00
Tikka Mughlai Chicken
A method of preparation of lite oriental herbs & spices cooked with egg
Medium
£7.00
Tikka Mughlai Lamb
A method of preparation of lite oriental herbs & spices cooked with egg
Medium
£7.00
Chicken & Cheese Kofta
Marinated chicken & meat balls cooked in mild spices & glazed with cheese
Very Mild
£7.00
Tikka Pathia Chicken
Mixed taste of hot, sweet & sour
Hot
£7.00
Tikka Pathia Lamb
Mixed taste of hot, sweet & sour
Hot
£7.00
King Prawn Pathia
Mixed taste of hot, sweet & sour
Hot
£7.00
Saag Chicken
Diced lamb, chicken or prawn cooked with spinach, similar as bhuna dish
Medium
£7.00
Saag Gosht
Diced lamb, chicken or prawn cooked with spinach, similar as bhuna dish
Medium
£7.00
Saag Prawn
Diced lamb, chicken or prawn cooked with spinach, similar as bhuna dish
Medium
£7.00
Saag King Prawn
Cooked with spinach, similar as bhuna dish
Medium
£7.00
Mushroom Curry Chicken
Medium
£7.00
Mushroom Curry Lamb
Medium
£7.00
Non Vegetable Thali
Poppadom, chutney, mix kebab, chicken korma, lamb bhuna & mushroom bhaji, pilau rice & a naan
Medium
£12.00
Vegetable Thali
Poppadom, chutney, onion bhaji, mushroom bhaji, cauliflower bhaji, saag aloo, bindi bhaji, pilau rice & a naan
Medium
£12.00
Naga Chicken
Prepared with naga pickle, tomatoes, garlic & selected spices. Hot & spicy flavour
Hot
£6.00
Naga Chicken Tikka
Prepared with naga pickle, tomatoes, garlic & selected spices. Hot & spicy flavour
Hot
£6.00
Naga Lamb
Prepared with naga pickle, tomatoes, garlic & selected spices. Hot & spicy flavour
Hot
£6.00
Naga Lamb Tikka
Prepared with naga pickle, tomatoes, garlic & selected spices. Hot & spicy flavour
Hot
£6.00
Naga Mix Vegetable
Prepared with naga pickle, tomatoes, garlic & selected spices. Hot & spicy flavour
Hot
£6.00
Naga Mixed
Prepared with naga pickle, tomatoes, garlic & selected spices. Hot & spicy flavour
Hot
£6.00
Naga Mixed Tikka
Prepared with naga pickle, tomatoes, garlic & selected spices. Hot & spicy flavour
Hot
£6.00
Naga Prawn
Prepared with naga pickle, tomatoes, garlic & selected spices. Hot & spicy flavour
Hot
£6.00
Naga King Prawn
Prepared with naga pickle, tomatoes, garlic & selected spices. Hot & spicy flavour
Hot
£7.00
Balti Kabali Chicken
Bhuna flavoured curry in a special blend of spices cooked with chick peas
Medium
£6.00
Balti Kabali Chicken Tikka
Bhuna flavoured curry in a special blend of spices cooked with chick peas
Medium
£6.00
Balti Kabali Lamb
Bhuna flavoured curry in a special blend of spices cooked with chick peas
Medium
£6.00
Balti Kabali Lamb Tikka
Bhuna flavoured curry in a special blend of spices cooked with chick peas
Medium
£6.00
Balti Kabali Mix Vegetable
Bhuna flavoured curry in a special blend of spices cooked with chick peas
Medium
£6.00
Balti Kabali Mixed
Bhuna flavoured curry in a special blend of spices cooked with chick peas
Medium
£6.00
Balti Kabali Mixed Tikka
Bhuna flavoured curry in a special blend of spices cooked with chick peas
Medium
£6.00
Balti Kabali Prawn
Bhuna flavoured curry in a special blend of spices cooked with chick peas
Medium
£6.00
Balti Kabali King Prawn
Bhuna flavoured curry in a special blend of spices cooked with chick peas
Medium
£7.00
Chilli Masala Chicken
Cooked with fresh herbs & spices crushed green chilli & coriander - sharp & hot
Hot
£6.00
Chilli Masala Chicken Tikka
Cooked with fresh herbs & spices crushed green chilli & coriander - sharp & hot
Hot
£6.00
Chilli Masala Lamb
Cooked with fresh herbs & spices crushed green chilli & coriander - sharp & hot
Hot
£6.00
Chilli Masala Lamb Tikka
Cooked with fresh herbs & spices crushed green chilli & coriander - sharp & hot
Hot
£6.00
Chilli Masala Mix Vegetable
Cooked with fresh herbs & spices crushed green chilli & coriander - sharp & hot
Hot
£6.00
Chilli Masala Mixed
Cooked with fresh herbs & spices crushed green chilli & coriander - sharp & hot
Hot
£6.00
Chilli Masala Mixed Tikka
Cooked with fresh herbs & spices crushed green chilli & coriander - sharp & hot
Hot
£6.00
Chilli Masala Prawn
Cooked with fresh herbs & spices crushed green chilli & coriander - sharp & hot
Hot
£6.00
Chilli Masala King Prawn
Cooked with fresh herbs & spices crushed green chilli & coriander - sharp & hot
Hot
£7.00
Balti Saag Chicken
An authentic dish prepared with sliced onion, green peppers, balti paste & spinach
Medium
£6.00
Balti Saag Chicken Tikka
An authentic dish prepared with sliced onion, green peppers, balti paste & spinach
Medium
£6.00
Balti Saag Lamb
An authentic dish prepared with sliced onion, green peppers, balti paste & spinach
Medium
£6.00
Balti Saag Lamb Tikka
An authentic dish prepared with sliced onion, green peppers, balti paste & spinach
Medium
£6.00
Balti Saag Mix Vegetable
An authentic dish prepared with sliced onion, green peppers, balti paste & spinach
Medium
£6.00
Balti Saag Mixed
An authentic dish prepared with sliced onion, green peppers, balti paste & spinach
Medium
£6.00
Balti Saag Mixed Tikka
An authentic dish prepared with sliced onion, green peppers, balti paste & spinach
Medium
£6.00
Balti Saag Prawn
An authentic dish prepared with sliced onion, green peppers, balti paste & spinach
Medium
£6.00
Balti Saag King Prawn
An authentic dish prepared with sliced onion, green peppers, balti paste & spinach
Medium
£7.00
Rezalla Chicken
Fried in pure ghee, pepper onion & chef own special spices
£6.00
Rezalla Chicken Tikka
Fried in pure ghee, pepper onion & chef own special spices
£6.00
Rezalla Lamb
Fried in pure ghee, pepper onion & chef own special spices
£6.00
Rezalla Lamb Tikka
Fried in pure ghee, pepper onion & chef own special spices
£6.00
Rezalla Mix Vegetable
Fried in pure ghee, pepper onion & chef own special spices
£6.00
Rezalla Mixed
Fried in pure ghee, pepper onion & chef own special spices
£6.00
Rezalla Mixed Tikka
Fried in pure ghee, pepper onion & chef own special spices
£6.00
Rezalla Prawn
Fried in pure ghee, pepper onion & chef own special spices
£6.00
Rezalla King Prawn
Fried in pure ghee, pepper onion & chef own special spices
£7.00
Kashmir (Medium) Chicken
Well recommended Kashmiri dish cooked with banana
Medium
£6.00
Kashmir (Medium) Chicken Tikka
Well recommended Kashmiri dish cooked with banana
Medium
£6.00
Kashmir (Medium) Lamb
Well recommended Kashmiri dish cooked with banana
Medium
£6.00
Kashmir (Medium) Lamb Tikka
Well recommended Kashmiri dish cooked with banana
Medium
£6.00
Kashmir (Medium) Mix Vegetable
Well recommended Kashmiri dish cooked with banana
Medium
£6.00
Kashmir (Medium) Mixed
Well recommended Kashmiri dish cooked with banana
Medium
£6.00
Kashmir (Medium) Mixed Tikka
Well recommended Kashmiri dish cooked with banana
Medium
£6.00
Kashmir (Medium) Prawn
Well recommended Kashmiri dish cooked with banana
Medium
£6.00
Kashmir (Medium) King Prawn
Well recommended Kashmiri dish cooked with banana
Medium
£7.00
Kashmir (Mild) Chicken
Well recommended Kashmiri dish cooked with banana
Mild
£6.00
Kashmir (Mild) Chicken Tikka
Well recommended Kashmiri dish cooked with banana
Mild
£6.00
Kashmir (Mild) Lamb
Well recommended Kashmiri dish cooked with banana
Mild
£6.00
Kashmir (Mild) Lamb Tikka
Well recommended Kashmiri dish cooked with banana
Mild
£6.00
Kashmir (Mild) Mix Vegetable
Well recommended Kashmiri dish cooked with banana
Mild
£6.00
Kashmir (Mild) Mixed
Well recommended Kashmiri dish cooked with banana
Mild
£6.00
Kashmir (Mild) Mixed Tikka
Well recommended Kashmiri dish cooked with banana
Mild
£6.00
Kashmir (Mild) Prawn
Well recommended Kashmiri dish cooked with banana
Mild
£6.00
Kashmir (Mild) King Prawn
Well recommended Kashmiri dish cooked with banana
Mild
£7.00
Masala Mixed Vegetable
Very Mild
£5.00
Masala Chicken Tikka
Very Mild
£6.00
Masala Lamb Tikka
Very Mild
£6.00
Masala Tandoori Chicken
Very Mild
£6.00
Masala King Prawn
Very Mild
£8.00
Korma Chicken
A preparation of very mild spices, cooked with peanut, coconut, sultanas & fresh cream
Very Mild
£5.00
Korma Lamb
A preparation of very mild spices, cooked with peanut, coconut, sultanas & fresh cream
Very Mild
£5.00
Korma Mushroom & Vegetable
A preparation of very mild spices, cooked with peanut, coconut, sultanas & fresh cream
Very Mild
£5.00
Korma Chicken Tikka
A preparation of very mild spices, cooked with peanut, coconut, sultanas & fresh cream
Very Mild
£6.00
Korma Lamb Tikka
A preparation of very mild spices, cooked with peanut, coconut, sultanas & fresh cream
Very Mild
£6.00
Korma Prawn
A preparation of very mild spices, cooked with peanut, coconut, sultanas & fresh cream
Very Mild
£6.00
Korma King Prawn
A preparation of very mild spices, cooked with peanut, coconut, sultanas & fresh cream
Very Mild
£7.00
Dupiaza Chicken
Preparation of fresh garlic, ginger, chopped onion with selected spices to give a rich spiced onions flavour taste
Medium
£5.00
Dupiaza Lamb
Preparation of fresh garlic, ginger, chopped onion with selected spices to give a rich spiced onions flavour taste
Medium
£5.00
Dupiaza Mushroom & Vegetable
Preparation of fresh garlic, ginger, chopped onion with selected spices to give a rich spiced onions flavour taste
Medium
£5.00
Dupiaza Prawn
Preparation of fresh garlic, ginger, chopped onion with selected spices to give a rich spiced onions flavour taste
Medium
£5.00
Dupiaza Chicken Tikka
Preparation of fresh garlic, ginger, chopped onion with selected spices to give a rich spiced onions flavour taste
Medium
£6.00
Dupiaza Lamb Tikka
Preparation of fresh garlic, ginger, chopped onion with selected spices to give a rich spiced onions flavour taste
Medium
£6.00
Dupiaza Mix
Preparation of fresh garlic, ginger, chopped onion with selected spices to give a rich spiced onions flavour taste
Medium
£6.00
Dupiaza King Prawn
Preparation of fresh garlic, ginger, chopped onion with selected spices to give a rich spiced onions flavour taste
Medium
£7.00
Bhuna Chicken
Bhuna is a recommended dish which is cooked with fresh garlic, ginger, onion, green pepper, tomato, fresh coriander & selected oriental spices
Medium
£5.00
Bhuna Lamb
Bhuna is a recommended dish which is cooked with fresh garlic, ginger, onion, green pepper, tomato, fresh coriander & selected oriental spices
Medium
£5.00
Bhuna Mushroom & Vegetable
Bhuna is a recommended dish which is cooked with fresh garlic, ginger, onion, green pepper, tomato, fresh coriander & selected oriental spices
Medium
£5.00
Bhuna Prawn
Bhuna is a recommended dish which is cooked with fresh garlic, ginger, onion, green pepper, tomato, fresh coriander & selected oriental spices
Medium
£5.00
Bhuna Chicken Tikka
Bhuna is a recommended dish which is cooked with fresh garlic, ginger, onion, green pepper, tomato, fresh coriander & selected oriental spices
Medium
£6.00
Bhuna Mix
Bhuna is a recommended dish which is cooked with fresh garlic, ginger, onion, green pepper, tomato, fresh coriander & selected oriental spices
Medium
£6.00
Bhuna King Prawn
Bhuna is a recommended dish which is cooked with fresh garlic, ginger, onion, green pepper, tomato, fresh coriander & selected oriental spices
Medium
£7.00
Bhuna Lamb Tikka
Bhuna is a recommended dish which is cooked with fresh garlic, ginger, onion, green pepper, tomato, fresh coriander & selected oriental spices
Medium
£7.00
Rogan Josh Chicken
Rogan josh cooked similar way as bhuna dishes but where greater use of red pepper & fresh tomato give a highly rich flavour taste
Medium
£5.00
Rogan Josh Lamb
Rogan josh cooked similar way as bhuna dishes but where greater use of red pepper & fresh tomato give a highly rich flavour taste
Medium
£5.00
Rogan Josh Mushroom & Vegetable
Rogan josh cooked similar way as bhuna dishes but where greater use of red pepper & fresh tomato give a highly rich flavour taste
Medium
£5.00
Rogan Josh Prawn
Rogan josh cooked similar way as bhuna dishes but where greater use of red pepper & fresh tomato give a highly rich flavour taste
Medium
£5.00
Rogan Josh Chicken Tikka
Rogan josh cooked similar way as bhuna dishes but where greater use of red pepper & fresh tomato give a highly rich flavour taste
Medium
£6.00
Rogan Josh Lamb Tikka
Rogan josh cooked similar way as bhuna dishes but where greater use of red pepper & fresh tomato give a highly rich flavour taste
Medium
£6.00
Rogan Josh Mix
Rogan josh cooked similar way as bhuna dishes but where greater use of red pepper & fresh tomato give a highly rich flavour taste
Medium
£6.00
Rogan Josh King Prawn
Rogan josh cooked similar way as bhuna dishes but where greater use of red pepper & fresh tomato give a highly rich flavour taste
Medium
£7.00
Jalfrezi Chicken
Jalfrezi contains the greater use of chopped onion, green pepper & fresh green chillies to give a tasty madras strength
Hot
£5.00
Jalfrezi Lamb
Jalfrezi contains the greater use of chopped onion, green pepper & fresh green chillies to give a tasty madras strength
Hot
£5.00
Jalfrezi Mushroom & Vegetable
Jalfrezi contains the greater use of chopped onion, green pepper & fresh green chillies to give a tasty madras strength
Hot
£5.00
Jalfrezi Prawn
Jalfrezi contains the greater use of chopped onion, green pepper & fresh green chillies to give a tasty madras strength
Hot
£5.00
Jalfrezi Chicken Tikka
Jalfrezi contains the greater use of chopped onion, green pepper & fresh green chillies to give a tasty madras strength
Hot
£6.00
Jalfrezi Lamb Tikka
Jalfrezi contains the greater use of chopped onion, green pepper & fresh green chillies to give a tasty madras strength
Hot
£6.00
Jalfrezi Mix
Jalfrezi contains the greater use of chopped onion, green pepper & fresh green chillies to give a tasty madras strength
Hot
£6.00
Jalfrezi King Prawn
Jalfrezi contains the greater use of chopped onion, green pepper & fresh green chillies to give a tasty madras strength
Hot
£7.00
Curry Chicken
Prepared with medium mild oriental spices. Giving a medium rich flavour
Medium
£5.00
Curry Lamb
Prepared with medium mild oriental spices. Giving a medium rich flavour
Medium
£5.00
Curry Prawn
Prepared with medium mild oriental spices. Giving a medium rich flavour
Medium
£5.00
Curry Chicken Tikka
Prepared with medium mild oriental spices. Giving a medium rich flavour
Medium
£6.00
Curry Lamb Tikka
Prepared with medium mild oriental spices. Giving a medium rich flavour
Medium
£6.00
Curry Mix
Prepared with medium mild oriental spices. Giving a medium rich flavour
Medium
£6.00
Curry King Prawn
Prepared with medium mild oriental spices. Giving a medium rich flavour
Medium
£7.00
Balti Chicken
Balti is preparation of onion, green pepper, tomato, fresh coriander & special balti spices to give a very rich taste
Medium
£5.00
Balti Lamb
Balti is preparation of onion, green pepper, tomato, fresh coriander & special balti spices to give a very rich taste
Medium
£5.00
Balti Mushroom & Vegetable
Balti is preparation of onion, green pepper, tomato, fresh coriander & special balti spices to give a very rich taste
Medium
£5.00
Balti Prawn
Balti is preparation of onion, green pepper, tomato, fresh coriander & special balti spices to give a very rich taste
Medium
£5.00
Balti Chicken Tikka
Balti is preparation of onion, green pepper, tomato, fresh coriander & special balti spices to give a very rich taste
Medium
£6.00
Balti Lamb Tikka
Balti is preparation of onion, green pepper, tomato, fresh coriander & special balti spices to give a very rich taste
Medium
£6.00
Balti Mix
Balti is preparation of onion, green pepper, tomato, fresh coriander & special balti spices to give a very rich taste
Medium
£6.00
Balti King Prawn
Balti is preparation of onion, green pepper, tomato, fresh coriander & special balti spices to give a very rich taste
Medium
£7.00
Karahi Chicken
Specially cooked with fresh onion, green pepper, garlic, ginger, coriander & tomato served in a sizzling metal bowl
Medium
£5.00
Karahi Lamb
Specially cooked with fresh onion, green pepper, garlic, ginger, coriander & tomato served in a sizzling metal bowl
Medium
£5.00
Karahi Mushroom & Vegetable
Specially cooked with fresh onion, green pepper, garlic, ginger, coriander & tomato served in a sizzling metal bowl
Medium
£5.00
Karahi Prawn
Specially cooked with fresh onion, green pepper, garlic, ginger, coriander & tomato served in a sizzling metal bowl
Medium
£5.00
Karahi Chicken Tikka
Specially cooked with fresh onion, green pepper, garlic, ginger, coriander & tomato served in a sizzling metal bowl
Medium
£6.00
Karahi Lamb Tikka
Specially cooked with fresh onion, green pepper, garlic, ginger, coriander & tomato served in a sizzling metal bowl
Medium
£6.00
Karahi Mix
Specially cooked with fresh onion, green pepper, garlic, ginger, coriander & tomato served in a sizzling metal bowl
Medium
£6.00
Karahi King Prawn
Specially cooked with fresh onion, green pepper, garlic, ginger, coriander & tomato served in a sizzling metal bowl
Medium
£7.00
Dansak Chicken
A preparation of lentils, pineapple to give sweet & sour taste
Medium
£5.00
Dansak Lamb
A preparation of lentils, pineapple to give sweet & sour taste
Medium
£5.00
Dansak Mushroom & Vegetable
A preparation of lentils, pineapple to give sweet & sour taste
Medium
£5.00
Dansak Prawn
A preparation of lentils, pineapple to give sweet & sour taste
Medium
£5.00
Dansak Chicken Tikka
A preparation of lentils, pineapple to give sweet & sour taste
Medium
£6.00
Dansak Lamb Tikka
A preparation of lentils, pineapple to give sweet & sour taste
Medium
£6.00
Dansak Mix
A preparation of lentils, pineapple to give sweet & sour taste
Medium
£6.00
Dansak King Prawn
A preparation of lentils, pineapple to give sweet & sour taste
Medium
£7.00
Madras Chicken
A preparation of medium hot spices giving a rich hot spicy taste
Hot
£5.00
Madras Lamb
A preparation of medium hot spices giving a rich hot spicy taste
Hot
£5.00
Madras Mushroom & Vegetable
A preparation of medium hot spices giving a rich hot spicy taste
Hot
£5.00
Madras Prawn
A preparation of medium hot spices giving a rich hot spicy taste
Hot
£5.00
Madras Chicken Tikka
A preparation of medium hot spices giving a rich hot spicy taste
Hot
£6.00
Madras Lamb Tikka
A preparation of medium hot spices giving a rich hot spicy taste
Hot
£6.00
Madras Mix
A preparation of medium hot spices giving a rich hot spicy taste
Hot
£6.00
Madras King Prawn
A preparation of medium hot spices giving a rich hot spicy taste
Hot
£7.00
Vindaloo Chicken
This dish is preparation of Southern Indian spices & greater use of chillies
Very Hot
£5.00
Vindaloo Lamb
This dish is preparation of Southern Indian spices & greater use of chillies
Very Hot
£5.00
Vindaloo Mushroom & Vegetable
This dish is preparation of Southern Indian spices & greater use of chillies
Very Hot
£5.00
Vindaloo Prawn
This dish is preparation of Southern Indian spices & greater use of chillies
Very Hot
£5.00
Vindaloo Chicken Tikka
This dish is preparation of Southern Indian spices & greater use of chillies
Very Hot
£6.00
Vindaloo Lamb Tikka
This dish is preparation of Southern Indian spices & greater use of chillies
Very Hot
£6.00
Vindaloo Mix
This dish is preparation of Southern Indian spices & greater use of chillies
Very Hot
£6.00
Vindaloo King Prawn
This dish is preparation of Southern Indian spices & greater use of chillies
Very Hot
£7.00
Samba Chicken
A very tasty dish prepared with well fried lentils, fresh lemon to give medium hot spicy taste
Hot
£5.00
Samba Lamb
A very tasty dish prepared with well fried lentils, fresh lemon to give medium hot spicy taste
Hot
£5.00
Samba Mushroom & Vegetable
A very tasty dish prepared with well fried lentils, fresh lemon to give medium hot spicy taste
Hot
£5.00
Samba Prawn
A very tasty dish prepared with well fried lentils, fresh lemon to give medium hot spicy taste
Hot
£5.00
Samba Chicken Tikka
A very tasty dish prepared with well fried lentils, fresh lemon to give medium hot spicy taste
Hot
£6.00
Samba Lamb Tikka
A very tasty dish prepared with well fried lentils, fresh lemon to give medium hot spicy taste
Hot
£6.00
Samba Mix
A very tasty dish prepared with well fried lentils, fresh lemon to give medium hot spicy taste
Hot
£6.00
Samba King Prawn
A very tasty dish prepared with well fried lentils, fresh lemon to give medium hot spicy taste
Hot
£7.00
Biryani Mixed Vegetable
Medium
£6.00
Biryani Chicken Tikka
Medium
£7.00
Biryani Lamb Tikka
Medium
£7.00
Biryani Tandoori Chicken
Medium
£7.00
Biryani King Prawn
Medium
£8.00
Mixed Vegetable Bhaji
Hot
£2.00
Masala Sauce (Contain with Peanut)
Contains: Peanut
£3.00
Keema Naan
Stuffed with mince meat
£2.50
Stuffed Naan
Stuffed with vegetable
£2.50
Peshwari Naan
Stuffed with raisins peanut & coconut
£2.50
Stuffed Paratha
Stuffed with vegetable
£2.50
Set Meal For 2 Persons
Starter:
Poppadom
Chutney
Mix Kebab
Main Meal:
Chicken Tikka Bhuna
Lamb Tikka Masala
Aloo Ghobi
Mushroom Bhaji
Egg Fried Rice
Naan
£25.00
Set Meal For 4 Persons
Starter:
Poppadom
Chutney
Mix Kebab
Main Meal:
Chicken Tikka Bhuna
Lamb Tikka Masala
Chicken Balti
Lamb Rogan Josh
Aloo Ghobi
Mushroom Bhahi
Tarka Daal
Bhindi Bhaji
Egg Fried Rice
Naan
£42.80
Kids Meal Deals 1
Chicken Nuggets or Fish Finger, Chips, Fruit Shoot & Lolli
£5.30
Kids Meal Deals 2
Chicken Korma or Masla Rice, Fruit Shoot & Lolli
£5.50
Contact Us
Find Us
12 Twist Lane, Leigh, WN74DA