About Us
Leigh Tandoori is a Indian takeaway in Leigh. Why don't you try our Mix Starter or Samba?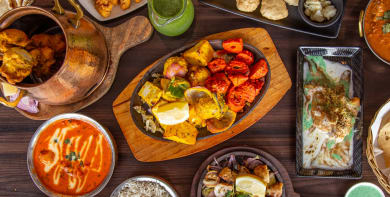 Reviews
69 reviews
Daniel
"Outstanding foods and so tasty!!!!!"
30/07/2021
Anthony
"Deliver driver was in a suit, my guesses he went out of his way in the restaurant to deliver, this guy deserves a raise. Food was spot on 👍"
28/07/2021
stuart
"Food good although jalfrezi very mild with only a bit of coriander and chillies and sauce was yellow like Chinese still good but not very authentic."
23/07/2021
Shannon
"Always a great meal and good service 😊"
13/07/2021
Menu
King Prawn Tandoori Starter
£4.00
Garlic Chicken Tikka Chat
£3.00
Half Tandoori Chicken
Medium
£8.00
Tikka Main Chicken
Medium
£7.00
Tandoori Mixed Grill
Medium
£9.00
Chicken Tikka Shashlik
Medium
£9.00
Lamb Tikka Shashlik
Medium
£9.00
King Prawn Tandoori
Medium
£9.00
Chicken Tikka Shahi
Mix combination of chicken tikka, mince lamb & omlelette on top medium to hot chef secret recopy
Hot
£7.00
Tikka Makhani Chicken
Preparation of marinated diced chicken tikka or lamb tikka cooked with creamed yoghurt, almond, pure butter to give a mild spiced taste
Very Mild
£7.00
Tikka Makhani Lamb
Preparation of marinated diced chicken tikka or lamb tikka cooked with creamed yoghurt, almond, pure butter to give a mild spiced taste
Very Mild
£7.00
Tikka Pasanda Chicken
Marinated diced chicken tikka or lamb tikka cooked in fresh cream, peanut, yoghurt, selected herbs & spices with red wine
Medium
£7.00
Tikka Pasanda Lamb
Marinated diced chicken tikka or lamb tikka cooked in fresh cream, peanut, yoghurt, selected herbs & spices with red wine
Medium
£7.00
Garlic Tikka Chicken
Spring lamb or chicken cooked with fresh chopped garlic
Medium
£7.00
Garlic Tikka Lamb
Spring lamb or chicken cooked with fresh chopped garlic
Medium
£7.00
Tikka Mughlai Chicken
A method of preparation of lite oriental herbs & spices cooked with egg
Medium
£7.00
Tikka Mughlai Lamb
A method of preparation of lite oriental herbs & spices cooked with egg
Medium
£7.00
Chicken & Cheese Kofta
Marinated chicken & meat balls cooked in mild spices & glazed with cheese
Very Mild
£7.00
Tikka Pathia Chicken
Mixed taste of hot, sweet & sour
Hot
£7.00
Tikka Pathia Lamb
Mixed taste of hot, sweet & sour
Hot
£7.00
King Prawn Pathia
Mixed taste of hot, sweet & sour
Hot
£7.00
Saag Chicken
Diced lamb, chicken or prawn cooked with spinach, similar as bhuna dish
Medium
£7.00
Saag Gosht
Diced lamb, chicken or prawn cooked with spinach, similar as bhuna dish
Medium
£7.00
Saag Prawn
Diced lamb, chicken or prawn cooked with spinach, similar as bhuna dish
Medium
£7.00
Saag King Prawn
Cooked with spinach, similar as bhuna dish
Medium
£7.00
Mushroom Curry Chicken
Medium
£7.00
Mushroom Curry Lamb
Medium
£7.00
Non Vegetable Thali
Poppadom, chutney, mix kebab, chicken korma, lamb bhuna & mushroom bhaji, pilau rice & a naan
Medium
£12.00
Vegetable Thali
Poppadom, chutney, onion bhaji, mushroom bhaji, cauliflower bhaji, saag aloo, bindi bhaji, pilau rice & a naan
Medium
£12.00
Naga Chicken
Prepared with naga pickle, tomatoes, garlic & selected spices. Hot & spicy flavour
Hot
£6.00
Naga Chicken Tikka
Prepared with naga pickle, tomatoes, garlic & selected spices. Hot & spicy flavour
Hot
£6.00
Naga Lamb
Prepared with naga pickle, tomatoes, garlic & selected spices. Hot & spicy flavour
Hot
£6.00
Naga Lamb Tikka
Prepared with naga pickle, tomatoes, garlic & selected spices. Hot & spicy flavour
Hot
£6.00
Naga Mix Vegetable
Prepared with naga pickle, tomatoes, garlic & selected spices. Hot & spicy flavour
Hot
£6.00
Naga Mixed
Prepared with naga pickle, tomatoes, garlic & selected spices. Hot & spicy flavour
Hot
£6.00
Naga Mixed Tikka
Prepared with naga pickle, tomatoes, garlic & selected spices. Hot & spicy flavour
Hot
£6.00
Naga Prawn
Prepared with naga pickle, tomatoes, garlic & selected spices. Hot & spicy flavour
Hot
£6.00
Naga King Prawn
Prepared with naga pickle, tomatoes, garlic & selected spices. Hot & spicy flavour
Hot
£7.00
Balti Kabali Chicken
Bhuna flavoured curry in a special blend of spices cooked with chick peas
Medium
£6.00
Balti Kabali Chicken Tikka
Bhuna flavoured curry in a special blend of spices cooked with chick peas
Medium
£6.00
Balti Kabali Lamb
Bhuna flavoured curry in a special blend of spices cooked with chick peas
Medium
£6.00
Balti Kabali Lamb Tikka
Bhuna flavoured curry in a special blend of spices cooked with chick peas
Medium
£6.00
Balti Kabali Mix Vegetable
Bhuna flavoured curry in a special blend of spices cooked with chick peas
Medium
£6.00
Balti Kabali Mixed
Bhuna flavoured curry in a special blend of spices cooked with chick peas
Medium
£6.00
Balti Kabali Mixed Tikka
Bhuna flavoured curry in a special blend of spices cooked with chick peas
Medium
£6.00
Balti Kabali Prawn
Bhuna flavoured curry in a special blend of spices cooked with chick peas
Medium
£6.00
Balti Kabali King Prawn
Bhuna flavoured curry in a special blend of spices cooked with chick peas
Medium
£7.00
Chilli Masala Chicken
Cooked with fresh herbs & spices crushed green chilli & coriander - sharp & hot
Hot
£6.00
Chilli Masala Chicken Tikka
Cooked with fresh herbs & spices crushed green chilli & coriander - sharp & hot
Hot
£6.00
Chilli Masala Lamb
Cooked with fresh herbs & spices crushed green chilli & coriander - sharp & hot
Hot
£6.00
Chilli Masala Lamb Tikka
Cooked with fresh herbs & spices crushed green chilli & coriander - sharp & hot
Hot
£6.00
Chilli Masala Mix Vegetable
Cooked with fresh herbs & spices crushed green chilli & coriander - sharp & hot
Hot
£6.00
Chilli Masala Mixed
Cooked with fresh herbs & spices crushed green chilli & coriander - sharp & hot
Hot
£6.00
Chilli Masala Mixed Tikka
Cooked with fresh herbs & spices crushed green chilli & coriander - sharp & hot
Hot
£6.00
Chilli Masala Prawn
Cooked with fresh herbs & spices crushed green chilli & coriander - sharp & hot
Hot
£6.00
Chilli Masala King Prawn
Cooked with fresh herbs & spices crushed green chilli & coriander - sharp & hot
Hot
£7.00
Balti Saag Chicken
An authentic dish prepared with sliced onion, green peppers, balti paste & spinach
Medium
£6.00
Balti Saag Chicken Tikka
An authentic dish prepared with sliced onion, green peppers, balti paste & spinach
Medium
£6.00
Balti Saag Lamb
An authentic dish prepared with sliced onion, green peppers, balti paste & spinach
Medium
£6.00
Balti Saag Lamb Tikka
An authentic dish prepared with sliced onion, green peppers, balti paste & spinach
Medium
£6.00
Balti Saag Mix Vegetable
An authentic dish prepared with sliced onion, green peppers, balti paste & spinach
Medium
£6.00
Balti Saag Mixed
An authentic dish prepared with sliced onion, green peppers, balti paste & spinach
Medium
£6.00
Balti Saag Mixed Tikka
An authentic dish prepared with sliced onion, green peppers, balti paste & spinach
Medium
£6.00
Balti Saag Prawn
An authentic dish prepared with sliced onion, green peppers, balti paste & spinach
Medium
£6.00
Balti Saag King Prawn
An authentic dish prepared with sliced onion, green peppers, balti paste & spinach
Medium
£7.00
Rezalla Chicken
Fried in pure ghee, pepper onion & chef own special spices
£6.00
Rezalla Chicken Tikka
Fried in pure ghee, pepper onion & chef own special spices
£6.00
Rezalla Lamb
Fried in pure ghee, pepper onion & chef own special spices
£6.00
Rezalla Lamb Tikka
Fried in pure ghee, pepper onion & chef own special spices
£6.00
Rezalla Mix Vegetable
Fried in pure ghee, pepper onion & chef own special spices
£6.00
Rezalla Mixed
Fried in pure ghee, pepper onion & chef own special spices
£6.00
Rezalla Mixed Tikka
Fried in pure ghee, pepper onion & chef own special spices
£6.00
Rezalla Prawn
Fried in pure ghee, pepper onion & chef own special spices
£6.00
Rezalla King Prawn
Fried in pure ghee, pepper onion & chef own special spices
£7.00
Kashmir (Medium) Chicken
Well recommended Kashmiri dish cooked with banana
Medium
£6.00
Kashmir (Medium) Chicken Tikka
Well recommended Kashmiri dish cooked with banana
Medium
£6.00
Kashmir (Medium) Lamb
Well recommended Kashmiri dish cooked with banana
Medium
£6.00
Kashmir (Medium) Lamb Tikka
Well recommended Kashmiri dish cooked with banana
Medium
£6.00
Kashmir (Medium) Mix Vegetable
Well recommended Kashmiri dish cooked with banana
Medium
£6.00
Kashmir (Medium) Mixed
Well recommended Kashmiri dish cooked with banana
Medium
£6.00
Kashmir (Medium) Mixed Tikka
Well recommended Kashmiri dish cooked with banana
Medium
£6.00
Kashmir (Medium) Prawn
Well recommended Kashmiri dish cooked with banana
Medium
£6.00
Kashmir (Medium) King Prawn
Well recommended Kashmiri dish cooked with banana
Medium
£7.00
Kashmir (Mild) Chicken
Well recommended Kashmiri dish cooked with banana
Mild
£6.00
Kashmir (Mild) Chicken Tikka
Well recommended Kashmiri dish cooked with banana
Mild
£6.00
Kashmir (Mild) Lamb
Well recommended Kashmiri dish cooked with banana
Mild
£6.00
Kashmir (Mild) Lamb Tikka
Well recommended Kashmiri dish cooked with banana
Mild
£6.00
Kashmir (Mild) Mix Vegetable
Well recommended Kashmiri dish cooked with banana
Mild
£6.00
Kashmir (Mild) Mixed
Well recommended Kashmiri dish cooked with banana
Mild
£6.00
Kashmir (Mild) Mixed Tikka
Well recommended Kashmiri dish cooked with banana
Mild
£6.00
Kashmir (Mild) Prawn
Well recommended Kashmiri dish cooked with banana
Mild
£6.00
Kashmir (Mild) King Prawn
Well recommended Kashmiri dish cooked with banana
Mild
£7.00
Masala Mixed Vegetable
Very Mild
£5.00
Masala Chicken Tikka
Very Mild
£6.00
Masala Lamb Tikka
Very Mild
£6.00
Masala Tandoori Chicken
Very Mild
£6.00
Masala King Prawn
Very Mild
£8.00
Korma Chicken
A preparation of very mild spices, cooked with peanut, coconut, sultanas & fresh cream
Very Mild
£5.00
Korma Lamb
A preparation of very mild spices, cooked with peanut, coconut, sultanas & fresh cream
Very Mild
£5.00
Korma Mushroom & Vegetable
A preparation of very mild spices, cooked with peanut, coconut, sultanas & fresh cream
Very Mild
£5.00
Korma Chicken Tikka
A preparation of very mild spices, cooked with peanut, coconut, sultanas & fresh cream
Very Mild
£6.00
Korma Lamb Tikka
A preparation of very mild spices, cooked with peanut, coconut, sultanas & fresh cream
Very Mild
£6.00
Korma Prawn
A preparation of very mild spices, cooked with peanut, coconut, sultanas & fresh cream
Very Mild
£6.00
Korma King Prawn
A preparation of very mild spices, cooked with peanut, coconut, sultanas & fresh cream
Very Mild
£7.00
Dupiaza Chicken
Preparation of fresh garlic, ginger, chopped onion with selected spices to give a rich spiced onions flavour taste
Medium
£5.00
Dupiaza Lamb
Preparation of fresh garlic, ginger, chopped onion with selected spices to give a rich spiced onions flavour taste
Medium
£5.00
Dupiaza Mushroom & Vegetable
Preparation of fresh garlic, ginger, chopped onion with selected spices to give a rich spiced onions flavour taste
Medium
£5.00
Dupiaza Prawn
Preparation of fresh garlic, ginger, chopped onion with selected spices to give a rich spiced onions flavour taste
Medium
£5.00
Dupiaza Chicken Tikka
Preparation of fresh garlic, ginger, chopped onion with selected spices to give a rich spiced onions flavour taste
Medium
£6.00
Dupiaza Lamb Tikka
Preparation of fresh garlic, ginger, chopped onion with selected spices to give a rich spiced onions flavour taste
Medium
£6.00
Dupiaza Mix
Preparation of fresh garlic, ginger, chopped onion with selected spices to give a rich spiced onions flavour taste
Medium
£6.00
Dupiaza King Prawn
Preparation of fresh garlic, ginger, chopped onion with selected spices to give a rich spiced onions flavour taste
Medium
£7.00
Bhuna Chicken
Bhuna is a recommended dish which is cooked with fresh garlic, ginger, onion, green pepper, tomato, fresh coriander & selected oriental spices
Medium
£5.00
Bhuna Lamb
Bhuna is a recommended dish which is cooked with fresh garlic, ginger, onion, green pepper, tomato, fresh coriander & selected oriental spices
Medium
£5.00
Bhuna Mushroom & Vegetable
Bhuna is a recommended dish which is cooked with fresh garlic, ginger, onion, green pepper, tomato, fresh coriander & selected oriental spices
Medium
£5.00
Bhuna Prawn
Bhuna is a recommended dish which is cooked with fresh garlic, ginger, onion, green pepper, tomato, fresh coriander & selected oriental spices
Medium
£5.00
Bhuna Chicken Tikka
Bhuna is a recommended dish which is cooked with fresh garlic, ginger, onion, green pepper, tomato, fresh coriander & selected oriental spices
Medium
£6.00
Bhuna Mix
Bhuna is a recommended dish which is cooked with fresh garlic, ginger, onion, green pepper, tomato, fresh coriander & selected oriental spices
Medium
£6.00
Bhuna King Prawn
Bhuna is a recommended dish which is cooked with fresh garlic, ginger, onion, green pepper, tomato, fresh coriander & selected oriental spices
Medium
£7.00
Bhuna Lamb Tikka
Bhuna is a recommended dish which is cooked with fresh garlic, ginger, onion, green pepper, tomato, fresh coriander & selected oriental spices
Medium
£7.00
Rogan Josh Chicken
Rogan josh cooked similar way as bhuna dishes but where greater use of red pepper & fresh tomato give a highly rich flavour taste
Medium
£5.00
Rogan Josh Lamb
Rogan josh cooked similar way as bhuna dishes but where greater use of red pepper & fresh tomato give a highly rich flavour taste
Medium
£5.00
Rogan Josh Mushroom & Vegetable
Rogan josh cooked similar way as bhuna dishes but where greater use of red pepper & fresh tomato give a highly rich flavour taste
Medium
£5.00
Rogan Josh Prawn
Rogan josh cooked similar way as bhuna dishes but where greater use of red pepper & fresh tomato give a highly rich flavour taste
Medium
£5.00
Rogan Josh Chicken Tikka
Rogan josh cooked similar way as bhuna dishes but where greater use of red pepper & fresh tomato give a highly rich flavour taste
Medium
£6.00
Rogan Josh Lamb Tikka
Rogan josh cooked similar way as bhuna dishes but where greater use of red pepper & fresh tomato give a highly rich flavour taste
Medium
£6.00
Rogan Josh Mix
Rogan josh cooked similar way as bhuna dishes but where greater use of red pepper & fresh tomato give a highly rich flavour taste
Medium
£6.00
Rogan Josh King Prawn
Rogan josh cooked similar way as bhuna dishes but where greater use of red pepper & fresh tomato give a highly rich flavour taste
Medium
£7.00
Jalfrezi Chicken
Jalfrezi contains the greater use of chopped onion, green pepper & fresh green chillies to give a tasty madras strength
Hot
£5.00
Jalfrezi Lamb
Jalfrezi contains the greater use of chopped onion, green pepper & fresh green chillies to give a tasty madras strength
Hot
£5.00
Jalfrezi Mushroom & Vegetable
Jalfrezi contains the greater use of chopped onion, green pepper & fresh green chillies to give a tasty madras strength
Hot
£5.00
Jalfrezi Prawn
Jalfrezi contains the greater use of chopped onion, green pepper & fresh green chillies to give a tasty madras strength
Hot
£5.00
Jalfrezi Chicken Tikka
Jalfrezi contains the greater use of chopped onion, green pepper & fresh green chillies to give a tasty madras strength
Hot
£6.00
Jalfrezi Lamb Tikka
Jalfrezi contains the greater use of chopped onion, green pepper & fresh green chillies to give a tasty madras strength
Hot
£6.00
Jalfrezi Mix
Jalfrezi contains the greater use of chopped onion, green pepper & fresh green chillies to give a tasty madras strength
Hot
£6.00
Jalfrezi King Prawn
Jalfrezi contains the greater use of chopped onion, green pepper & fresh green chillies to give a tasty madras strength
Hot
£7.00
Curry Chicken
Prepared with medium mild oriental spices. Giving a medium rich flavour
Medium
£5.00
Curry Lamb
Prepared with medium mild oriental spices. Giving a medium rich flavour
Medium
£5.00
Curry Prawn
Prepared with medium mild oriental spices. Giving a medium rich flavour
Medium
£5.00
Curry Chicken Tikka
Prepared with medium mild oriental spices. Giving a medium rich flavour
Medium
£6.00
Curry Lamb Tikka
Prepared with medium mild oriental spices. Giving a medium rich flavour
Medium
£6.00
Curry Mix
Prepared with medium mild oriental spices. Giving a medium rich flavour
Medium
£6.00
Curry King Prawn
Prepared with medium mild oriental spices. Giving a medium rich flavour
Medium
£7.00
Balti Chicken
Balti is preparation of onion, green pepper, tomato, fresh coriander & special balti spices to give a very rich taste
Medium
£5.00
Balti Lamb
Balti is preparation of onion, green pepper, tomato, fresh coriander & special balti spices to give a very rich taste
Medium
£5.00
Balti Mushroom & Vegetable
Balti is preparation of onion, green pepper, tomato, fresh coriander & special balti spices to give a very rich taste
Medium
£5.00
Balti Prawn
Balti is preparation of onion, green pepper, tomato, fresh coriander & special balti spices to give a very rich taste
Medium
£5.00
Balti Chicken Tikka
Balti is preparation of onion, green pepper, tomato, fresh coriander & special balti spices to give a very rich taste
Medium
£6.00
Balti Lamb Tikka
Balti is preparation of onion, green pepper, tomato, fresh coriander & special balti spices to give a very rich taste
Medium
£6.00
Balti Mix
Balti is preparation of onion, green pepper, tomato, fresh coriander & special balti spices to give a very rich taste
Medium
£6.00
Balti King Prawn
Balti is preparation of onion, green pepper, tomato, fresh coriander & special balti spices to give a very rich taste
Medium
£7.00
Karahi Chicken
Specially cooked with fresh onion, green pepper, garlic, ginger, coriander & tomato served in a sizzling metal bowl
Medium
£5.00
Karahi Lamb
Specially cooked with fresh onion, green pepper, garlic, ginger, coriander & tomato served in a sizzling metal bowl
Medium
£5.00
Karahi Mushroom & Vegetable
Specially cooked with fresh onion, green pepper, garlic, ginger, coriander & tomato served in a sizzling metal bowl
Medium
£5.00
Karahi Prawn
Specially cooked with fresh onion, green pepper, garlic, ginger, coriander & tomato served in a sizzling metal bowl
Medium
£5.00
Karahi Chicken Tikka
Specially cooked with fresh onion, green pepper, garlic, ginger, coriander & tomato served in a sizzling metal bowl
Medium
£6.00
Karahi Lamb Tikka
Specially cooked with fresh onion, green pepper, garlic, ginger, coriander & tomato served in a sizzling metal bowl
Medium
£6.00
Karahi Mix
Specially cooked with fresh onion, green pepper, garlic, ginger, coriander & tomato served in a sizzling metal bowl
Medium
£6.00
Karahi King Prawn
Specially cooked with fresh onion, green pepper, garlic, ginger, coriander & tomato served in a sizzling metal bowl
Medium
£7.00
Dansak Chicken
A preparation of lentils, pineapple to give sweet & sour taste
Medium
£5.00
Dansak Lamb
A preparation of lentils, pineapple to give sweet & sour taste
Medium
£5.00
Dansak Mushroom & Vegetable
A preparation of lentils, pineapple to give sweet & sour taste
Medium
£5.00
Dansak Prawn
A preparation of lentils, pineapple to give sweet & sour taste
Medium
£5.00
Dansak Chicken Tikka
A preparation of lentils, pineapple to give sweet & sour taste
Medium
£6.00
Dansak Lamb Tikka
A preparation of lentils, pineapple to give sweet & sour taste
Medium
£6.00
Dansak Mix
A preparation of lentils, pineapple to give sweet & sour taste
Medium
£6.00
Dansak King Prawn
A preparation of lentils, pineapple to give sweet & sour taste
Medium
£7.00
Madras Chicken
A preparation of medium hot spices giving a rich hot spicy taste
Hot
£5.00
Madras Lamb
A preparation of medium hot spices giving a rich hot spicy taste
Hot
£5.00
Madras Mushroom & Vegetable
A preparation of medium hot spices giving a rich hot spicy taste
Hot
£5.00
Madras Prawn
A preparation of medium hot spices giving a rich hot spicy taste
Hot
£5.00
Madras Chicken Tikka
A preparation of medium hot spices giving a rich hot spicy taste
Hot
£6.00
Madras Lamb Tikka
A preparation of medium hot spices giving a rich hot spicy taste
Hot
£6.00
Madras Mix
A preparation of medium hot spices giving a rich hot spicy taste
Hot
£6.00
Madras King Prawn
A preparation of medium hot spices giving a rich hot spicy taste
Hot
£7.00
Vindaloo Chicken
This dish is preparation of Southern Indian spices & greater use of chillies
Very Hot
£5.00
Vindaloo Lamb
This dish is preparation of Southern Indian spices & greater use of chillies
Very Hot
£5.00
Vindaloo Mushroom & Vegetable
This dish is preparation of Southern Indian spices & greater use of chillies
Very Hot
£5.00
Vindaloo Prawn
This dish is preparation of Southern Indian spices & greater use of chillies
Very Hot
£5.00
Vindaloo Chicken Tikka
This dish is preparation of Southern Indian spices & greater use of chillies
Very Hot
£6.00
Vindaloo Lamb Tikka
This dish is preparation of Southern Indian spices & greater use of chillies
Very Hot
£6.00
Vindaloo Mix
This dish is preparation of Southern Indian spices & greater use of chillies
Very Hot
£6.00
Vindaloo King Prawn
This dish is preparation of Southern Indian spices & greater use of chillies
Very Hot
£7.00
Samba Chicken
A very tasty dish prepared with well fried lentils, fresh lemon to give medium hot spicy taste
Hot
£5.00
Samba Lamb
A very tasty dish prepared with well fried lentils, fresh lemon to give medium hot spicy taste
Hot
£5.00
Samba Mushroom & Vegetable
A very tasty dish prepared with well fried lentils, fresh lemon to give medium hot spicy taste
Hot
£5.00
Samba Prawn
A very tasty dish prepared with well fried lentils, fresh lemon to give medium hot spicy taste
Hot
£5.00
Samba Chicken Tikka
A very tasty dish prepared with well fried lentils, fresh lemon to give medium hot spicy taste
Hot
£6.00
Samba Lamb Tikka
A very tasty dish prepared with well fried lentils, fresh lemon to give medium hot spicy taste
Hot
£6.00
Samba Mix
A very tasty dish prepared with well fried lentils, fresh lemon to give medium hot spicy taste
Hot
£6.00
Samba King Prawn
A very tasty dish prepared with well fried lentils, fresh lemon to give medium hot spicy taste
Hot
£7.00
Biryani Mixed Vegetable
Medium
£6.00
Biryani Chicken Tikka
Medium
£7.00
Biryani Lamb Tikka
Medium
£7.00
Biryani Tandoori Chicken
Medium
£7.00
Biryani King Prawn
Medium
£8.00
Mixed Vegetable Bhaji
Hot
£2.00
Masala Sauce (Contain with Peanut)
Contains: Peanut
£3.00
Keema Naan
Stuffed with mince meat
£2.50
Stuffed Naan
Stuffed with vegetable
£2.50
Peshwari Naan
Stuffed with raisins peanut & coconut
£2.50
Stuffed Paratha
Stuffed with vegetable
£2.50
Set Meal For 2 Persons
Starter:
Poppadom
Chutney
Mix Kebab
Main Meal:
Chicken Tikka Bhuna
Lamb Tikka Masala
Aloo Ghobi
Mushroom Bhaji
Egg Fried Rice
Naan
£25.00
Set Meal For 4 Persons
Starter:
Poppadom
Chutney
Mix Kebab
Main Meal:
Chicken Tikka Bhuna
Lamb Tikka Masala
Chicken Balti
Lamb Rogan Josh
Aloo Ghobi
Mushroom Bhahi
Tarka Daal
Bhindi Bhaji
Egg Fried Rice
Naan
£42.80
Kids Meal Deals 1
Chicken Nuggets or Fish Finger, Chips, Fruit Shoot & Lolli
£5.30
Kids Meal Deals 2
Chicken Korma or Masla Rice, Fruit Shoot & Lolli
£5.50
Contact Us
Find Us
12 Twist Lane, Leigh, WN74DA